Have you ever asked yourself this? "Where the h*ll in this world will I find a home based job that will pay me well and will let me work ...
Have you ever asked yourself this? "Where the h*ll in this world will I find a home based job that will pay me well and will let me work ONLY when I want to?"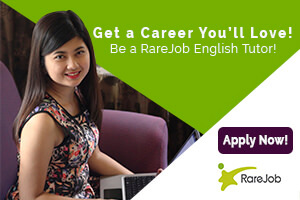 Yup, I did too! And I thought it was close to impossible. But oh, it's not!
Then I found out about RareJob.
It's an English Online School that lets you teach Japanese students whenever your schedule permits. You heard that right, dear. It's 100% flexible with good pay and lots of incentives. There is no minimum hours required to teach in RareJob. Only got free time on a weekday or a weekend? At night or early morning? Got 3 hours of spare time? An hour or two? Or simply want a full-time home based job? Not a problem! You can teach when you are free, when you want to.
When I discovered that RareJob is the real answer to my question, even though I do not have any teaching experience, I applied immediately with no hesitation. So, let me share with you how I became a RareJob tutor. Mind you, it's as easy as 1, 2,3.
Step 1: Register
Simply click the link below and fill out the form with your personal information.
Work online. Choose your schedule. Be a RareJob online English tutor. Apply now!
Step 2: Pass the English Proficiency Test
The test consists of categories: Conversation, Vocabulary, Grammar, and Comprehension.
Tip: Each categories are timed so just relax and trust your instinct. You can do it!
Step 3: Demo Lesson
This is the part where your teaching capabilities will be assessed. Don't worry! The materials and Lesson flow for the Demo are provided as well as video samples on how lessons are conducted.
Tips:
You have the control to choose when to schedule the Demo Lesson! Since I have a day job, I had to schedule my Demo Lesson a week after I passed Step 2.
You can also practice conducting lessons with a friend so when the time comes, you won't feel awkward about it. Remember that this is a job opportunity so smile, dress well, be punctual, be prepared and be professional at all times.
Before the Demo Lessons starts, a Test Call Admin will check on the following:
The kind of internet connection you have. (DSL, Broadband, etc.)
How you are connected to the Internet. (Connected via LAN cable or Wi-Fi)
The type of device are you using. (desktop PC, laptop, etc.)
The place where you plan to conduct the tutorial sessions.
Do you have ESL teaching experience?
Current speed test result (link) :
They prefer a wired connection but I was honest when I told them that the laptop I was using is connected wirelessly. My download speed that time was 2.04 mbps and .86 upload speed. A headset with noise cancellation feature is also recommended.
How to run a speedtest?
Go to
http://www.speedtest.net/
Click on Begin Test.
After the test, click Share this Result.
That is the link you will provide for the current speed test result.
Things you also need to know:
After passing the Demo Lesson, you will be endorsed to a coach who will orient you on how to navigate through the Tutor website, how to open lesson slots and all the SOPs you need to know.
Before opening a lesson slot, you will be asked to complete your Tutor Profile. A guide for proper profile picture, written self introduction and its recording are also provided. These are the things that students will see on the webpage when they are choosing their tutors
The BIG question: Tutor Fee rate at RareJob?
The rate is based on their overall assessment of you. Their basic tutor fee is 50 pesos per 25 minute-booked lesson plus incentives. If your lesson was booked and your student didn't show up, you'll get paid too. It's a good pay for a new tutor without teaching experience yet. Do the math.
You'll be surprised about the many incentives that await you!
Other FAQs:
– Teaching experience is not required
– Undergrads, 18 yrs old and above, are welcome to apply!
– Lesson materials are provided, no more long hours of research for each lesson.
– Students are mostly working professionals
– One lesson takes 25 minutes
– All lessons are conducted through Skype
My experience as a RareJob tutor. No stress. It was fun and easy! #thisisit!
I have been with a BPO company for 5 years now. For 3 years, I was tasked as a subject matter expert which has let me share the knowledge and experience I have. We all know that this kind of job will literally twist up your body clock. Immortals as they call it. Work like a dog this month and be an owl next month. You get to work on a weekend and spend your rest day that falls on a weekday and do nothing but stare at your phone and watch the Kardashians run the internet world. That's just not right, you know.Aside from earning, I wanted to keep on learning and at the same time, go on some sort of social media diet in the most productive way possible.
What I love about RareJob is that I am free to open lessons when I want to. From work, I normally arrive at 5:00 or 6:00 pm, so I take classes at 7:00 to 8:00 pm. That's just an hour a day. I sometimes make it two hours and if I feel like I need to take a break, I skip a day or two. Or whenever I just don't feel like doing it or have personal matters to attend to, I only open slots on my rest day or even a week after. To save you time, I made a lot of research about other English online schools and RareJob, so far, is the only ESL I know that has no minimum hours requirement.
Plus, lesson materials are provided so you have a guide on what to say or do. No long hours of research! Easy.
Most students who booked my classes are working professionals who can actually speak English . Few of them are beginners. But with my experience, all of them are really nice, willing to learn, open for corrections and are fond of speaking with Filipinos. Just imagine yourself talking to a friend and you get paid for it. Nice, right? No stress. :)
I am just an average girl. If I made it, I know you can make it too! So whoever, wherever you are or whatever you do, this is it! Take the chance and spread the word! Work from home with a job that will pay you well and will let you work ONLY when you want to!
Good luck with your application, soon-to-be RareJob Tutor!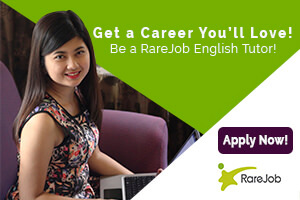 Still have questions? Please feel free to email me at pigtain.macorazon@live.com
Like us on Facebook!